"You have to work within the system, to change the system."

- Atul Kulkarni in the film,

Page 3

The common man stands testimony since times immemorial to instances of corruption at various footholds of the so called 'system'. While bribery, nepotism, favouritism and red-tapism have become a routine part of our lives, it is no surprise that we have begun to show the path of least resistance to these examples of sacrilege to a democratic set-up.
Interestingly, cinem
a has paved the way to show a sanguine path and the new generation (at least
the educated middle-class) has begun to ventilate their grievances, int
ermittent
ly. Be it cases of injustice (the Jessica Lal Case) or Mandal -II, wherein the young brigade from all sections revolted in rebellion for what it believed was a failure of meritocracy. Keeping all these recent uproars in mind, an
expression of hope is a sign of relief for the future.


Nurturing that hope for admonishing the idiosyncracies of the system, is the India Rejuvenation Initiative (Bharat Punarothhan Abhiyan). Debate, being a compulsory and a mundane recourse to every issue, IRI comes as a breathe of fresh air since it votes for action over debate. Supported by a group of several educationists, senior IAS and IPS officers, senior government officials viz. Former Chief E
lection Commissioner J.M.Lyngdoh, Former Director General of Police J.F.Ribeiro and former Chief Justice of India R.C.Lahoti, IRI has resolved to direct action to fix accountability, transparency and probity into the system.
The need for an enterprise like this has always been felt, when the system has tried to take over virtue and principle. Key positions for senior officials in the bureacracy are often occupied by the corrupt. This prevents the new recruits - just pawns in the larger set-up to adhere to the higher authorities vested interests, often sacrificing ethics and standards, that their profession demands.

Lyn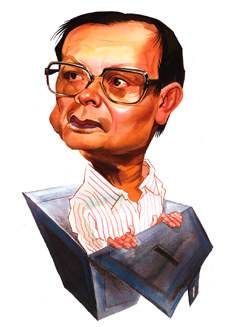 gdoh believes, "It is necessary that honest public servants must be supported strongly when they stand against misdeeds. The corrupt officers are well-known to their colleagues."
IRI will come into action when it will influence
key appointments. "Whenever we come to know that the government is going to appoint a wrong officer on a key post, the members will meet the authorities and request to reconsider the decision. We also could resort to other democratic means to curb such practices as and when required," he adds.


Therefore, for IRI's powers to be fully functional in efficacy, it will necessitate its urgency into full-prominence since initiatives like these have easy chance to die a stifled death, thanks to the already empowered VIP class.

The group is also against these very VIP facilities for privileged few at the cost of the common man and law-abiding citizens.
A case in point where IRI could have been effective, is a plethora of storylines, already done to death on celluloid. E.Nivas'

Shool

, Mahesh Manjrekar's

Kurukshetra

, Mani Ratnam's

Yuva

, Shimmit Amin's

Ab Tak Chhappan

amongst several others, have rightfully showcased how the system deserts the dutiful, when bribery and politics permeate a system, that should ideally remain impregnable.


While IRI should successfully create a beginning somewhere in exposing corruption, gross inaction and inefficiency in the echelons of power, it remains to be seen how much of an edge it has over agencies like the Anti-Corruption Bureau (ACB) and Central Bureau of Investigation (CBI). These agencies are believed to have also been swallowed into the pool of dirty politics in several high profile cases, tampering evidence and concealing information.
A welcome move would be the setting up more and more fast-track courts. This would ensure that there isn't any time spent in dispensing justice to the needy. Also, a culture of pressure groups coming up in every state would energise the intellectual vanguards of an already suppressed system. Not only that, civilian participation for IRI initiatives and citizen action groups will help constant pressure to be mounted on the administration and the media will only be to too glad to oblige by monitoring activities throughout.